Whether you're looking to update your family photos, get a headshot taken for your Linkedin profile, or just need some photos of yourself to use for social media branding content, downtown Kelowna is a great location for photography. There is no shortage of fantastic downtown locations to use for your photoshoot, whether you're looking for something indoors or want to take advantage of all the stunning scenery that Kelowna has to offer.
In this blog post, we're going to highlight some of the best downtown photography spots Kelowna has to offer, from indoor photography studios to beautiful lookouts that overlook Lake Okanagan.
Downtown Kelowna Photography: City Park & The Boardwalk
Parks are always a great option when it comes to finding locations for photoshoots, and City Park in downtown Kelowna is no exception. Not only do you have access to large grassy areas and big, beautiful trees but you also have the beach and the lake at your disposal. Parks are a great location for family photos, as they provide enough space for kids to run around and burn off some energy, while also providing lots of great backdrops for your photographer to work with. While some people prefer the clean, simple elements of studio photography, others want a variety of different backgrounds for their photos, which is why City Park is such a great choice.
Being located right downtown also makes City Park easy to get to, so you won't have to worry about trying to explain directions to your photographer, or vice versa. Opting to have your photos taken in City Park is super easy if you've booked a Hiilite photographer, as our office is only a block away from the park! Another great perk of City Park is that it leads right into the beautiful boardwalk that stretches along the shoreline of Lake Okanagan. The boardwalk is another stunning downtown photography location that is perfect if you're looking to have the lake in the background!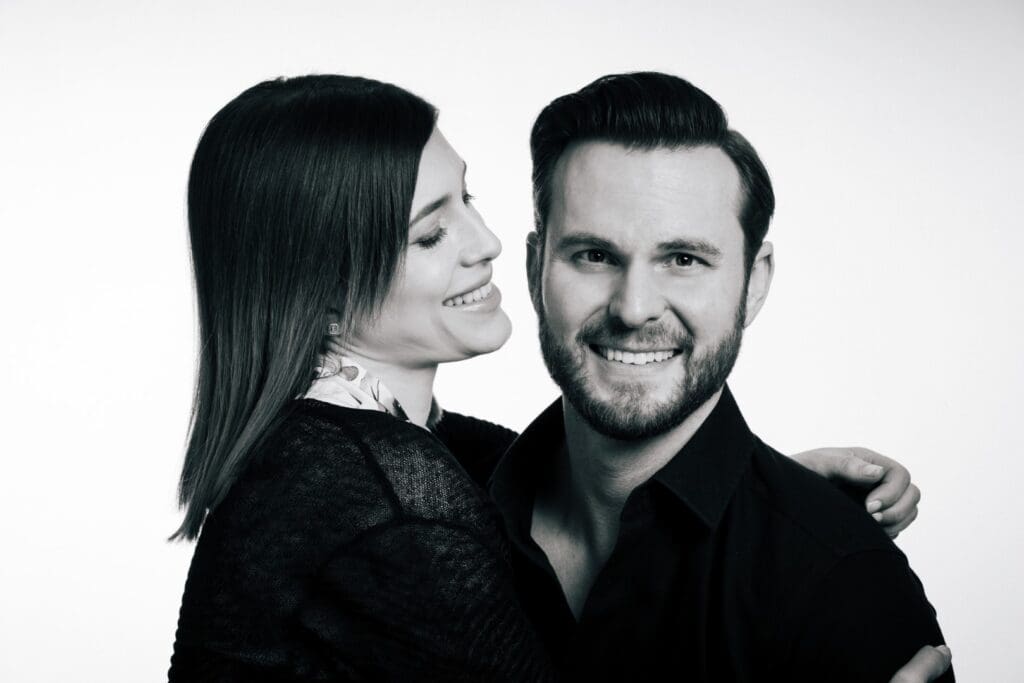 In The Studio
If outdoor photos aren't exactly what you're looking for, then a photography studio might just fit the bill. Whether you're looking for a professional headshot or you just enjoy the look of studio photos, there are lots of great studio photography options in Kelowna. There are a number of great photographers in Kelowna that offer photos in a studio setting, such as Bonne Belle Portraits and Trevor Walker Photography, but if you're looking for a photography studio that is conveniently located in downtown Kelowna, then Hiilite might be the perfect fit!
Opting to take photos indoors can be a great choice if you're looking for images that require a bit more control when it comes to lighting. When you take photos outdoors, you can be faced with a number of different challenges, from weather to poor lighting. Being in the studio, however, means that our photographers can utilize studio lights to ensure we're capturing your best side in every single photo. And studio photos don't just have to be limited to headshots! Bring the whole family in to capture timeless photos that you can treasure for years to come or bring in your pet to get their photos taken in a quiet, distraction-free environment.
Knox Mountain
For an outdoor location that brings some drama, Knox Mountain in downtown Kelowna is a stunning location to take photos and is a popular family photo location for many local photographers. The lower half of the mountain can be easily accessed by car, but if you're looking for a bit of adventure, you and your photographer can take a little hike to find the ideal location for your shoot! Whether you're looking to have Lake Okanagan in the background or want to take advantage of the unique landscape of the mountain itself, Knox Mountain is a great downtown photography location that is easy to get to and provides lots of great photo options.
If you think Knox Mountain might be the perfect photo location for you, we'd love to book a session with you. Our photographers work both in and out of the studio and are always looking to explore everything Kelowna has to offer. Remember to show up to your scheduled session time already dressed, with hair and makeup done so we can get right into taking photos! The more time you spend getting yourself ready during your scheduled session time, the less time our photographer will have to actually be taking photos and capturing your memories. Another important reminder is to dress appropriately. If you plan on hiking the mountain a bit to find the ideal location, make sure you wear shoes that you can comfortably walk in, or bring a pair you can change out of when you find the perfect spot!
Local Coffee Shops
Another great indoor photography location in downtown Kelowna is any one of the independently owned coffee shops. Whether you're looking for branding photos to help promote a business, headshots that are a bit more casual, or a relaxed lifestyle session, coffee shops provide a great atmosphere for a photo session. Order your favourite drink, find a table, and work with our photographer to bring your vision to life!
Some of our favourite coffee shops that are right in the heart of downtown Kelowna are the Bean Scene and DeVille Coffee. If you're willing to venture a little way outside of the downtown core, Bright Jenny is also a picture-perfect spot! There are a few different Bean Scene locations scattered across Kelowna, but the downtown location is a great place to plan a photoshoot! They also boast a gorgeous rooftop patio that is a great photo spot during the summer months. DeVille Coffee is light and bright, with lots of natural wood tones that make for a beautiful photo backdrop. They also have a cute patio in front of the shop for outdoor photo opportunities. Bright Jenny is a plant-lovers dream! Their main storefront is cozy, but they have a beautiful outdoor patio with lots of seating, and their 'Bright Lab' building at the back of the patio is full of comfy couches and house plants that make for great photo spots.
Regardless of what type of photos you're looking for, downtown Kelowna has photography options for everyone! Hopefully, this blog post highlighted a location that has sparked your interest and given you some ideas for when it comes time to book your next photo session.